While the origin of Bloody Mary is unclear, the famed cocktail has been part of the St. Regis history since 1934, when Fernand Petiot, bartender at the King Cole Bar in The St. Regis New York, introduced the "Red Snapper" (that's what they used to call it).

It struck the good folks at St. Regis Bangkok, Thailand's first St. Regis hotel, that they ought to infuse the original Bloody Mary recipe with native flavors so that guests can savour a tinge of their local culture. After all, the popular concoction has been imitated and adapted since its birth nearly eight decades ago.

"The Siam Mary is inspired by the flavors and spices of traditional Bangkok recipes, and cultivated from St. Regis history," said Krister Svensson, General Manager of The St. Regis Bangkok.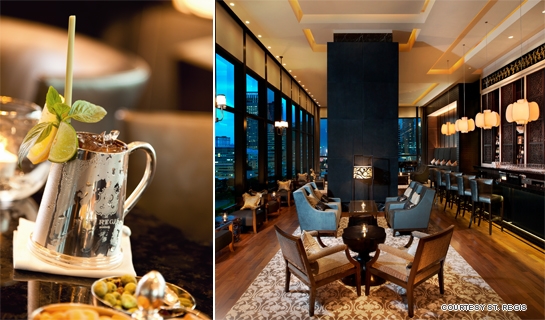 Served in a 14-ounce silver goblet, the fiery red liquid stands in stark contrast to the greens and yellows of the Thai basil stem, lemongrass stalk, and lime wedge that serve as ornamentation.
Let the fiery red liquid trickle down your throat — the Siam Mary strikes a fine balance between the spiciness of Thai chili and the zest of lemon, tomato and coriander. Served in a 14-ounch silver goblet, its appearance alone is a refreshing treat, with luscious green and bright yellow garnishes.

There's nowhere else you can find this unique homebrew, other than at The St. Regis Bar. The refinement and style of the St. Regis Bar promises an elegant meeting place for enchanting evenings where you can kick back and relax to the jazzy tunes while sipping the signature Siam Mary.

St. Regis Bangkok, 159 Rajadamri Road, Bangkok, +66 2207 7777, stregis.com
Check out which awards St. Regis Singapore and St. Regis Bali Resort bagged at the recent TripAdvisor's Travelers' Choice 2012.